f you rely on eCommerce sales growth from your website, your eCommerce SEO sales will often deliver the highest proportion of revenue and at the best return on investment.
So one of the fastest ways to increase your eCommerce sales is to use advanced keyword strategies proven to deliver multi-million-pound incremental sales growth from award-winning?Digital Marketing case studies.
This guide takes you through advanced?eCommerce SEO?keyword analysis on a step by step basis so that you can determine the keyword strategy that will bring your eCommerce website more sales from organic search more quickly.
1. Organic Landing Page Analysis
The best way to identify how to increase your existing eCommerce SEO revenue is to look at which of your landing pages are currently sending the most new customers from organic traffic already.
To get a list of your top 10 most valuable pages from?Google Analytics:
Login into your Google Analytics account
Go to the BEHAVIOUR section down the left hand side
Click on Site Content
Then click on Landing Pages
Finally segment your traffic at the top by adding a new segment called ?Organic Traffic? and removing the ?All Traffic? segment
You will then be looking at your most popular SEO landing pages by sessions by default.
To sort your SEO landing pages by high to low eCommerce revenue, transactions or click through rate you can click on the corresponding column header.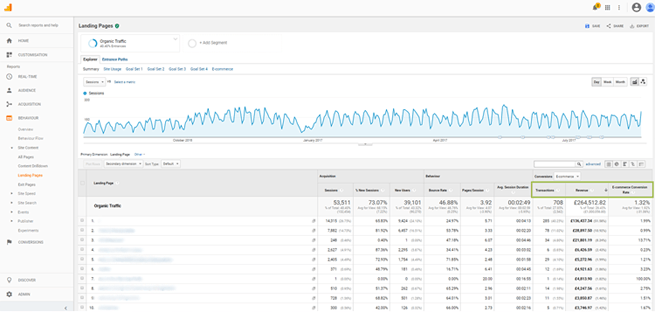 2. Reverse Engineered Keyword Ranking Analysis
Armed with the top 10 pages driving you the most SEO revenue, you can then reverse engineer which keywords those pages are on page 1 of Google for (in the top 10 organic search results positions).
For example, if you?re a bed retailer and your ?sleigh beds? category page is proven to send you hundreds of thousands of pounds of revenue each year from your organic channel, you can hypothesise that you are probably ranking on page 1 of Google for the keyword ?sleigh beds?.
Then use your favourite keyword ranking tool, such as?SEM Rush, to verify and confirm the position that you rank on page 1 of Google for. Check longer tail variations of the keyword as well such as ?wood sleigh bed? and ?white sleigh beds? ? you may well find you rank even higher for these terms.
But, if you are not occupying the number 1 position in Google for your main reverse engineered keyword ?sleigh beds?, then the fastest way to increase your eCommerce SEO sales will be increasing the ranking position of that keyword. Increasing your natural authority for that main keyword will also improve the organic rankings of all the longer tail variations too.
Now this is absolutely critical to adding thousands of pounds in incremental revenue from SEO and this is where so many retailers stop and move on to the next keyword. Which is a bit like starting to climb a mountain and turning back half way before reaching the summit. Getting on page 1 is only half the journey, getting to the top of the results is the goal.
From our own proprietary research of 412 brands, our digital marketing agency found that the difference between the same keyword ranking at number 10 and number 1 in Google?s search results can be over 100x more SEO revenue from that one page.
Not only does the volume of traffic increase as you increase your natural search positions, but critically for eCommerce websites, the conversion rate increases too. Making every single ranking improvement for your top revenue-driving keywords deliver exponential return on SEO investment.
3. Authority Gap Analysis
So once you know which keywords you want to increase, how do you go about turning a position 10 organic ranking into a position number 1 in Google?
Once your page is ranking on the first page of Google, it?s very likely there because you?ve already exploited every potential there is through onsite content optimisation and technical SEO.
The most neglected area of SEO for enjoying those lucrative number 1 rankings is going to rely on improving your offsite SEO. And the fastest way to assess how much work is going to be involved in bumping your search competitors down a peg or two, is through authority gap analysis.
Search in Google for the keyword you want to be number 1 for and then assess the page authority of all the pages that are ranking above you (positions 1 to 9) using back link analysis software, such as?Majestic SEO.
Search competitor link analysis will not only provide you with a simple authority score out of 100 for your own site but you can quickly compare your score to your search competitors.
The nearer your score is to your search competitor for each keyword, the smaller the gap in authority and the quicker it will take you to outrank them.
4. eCommerce SEO Keyword Strategy
After assessing your initial reverse engineered keywords by revenue potential, current page 1 position and authority gap you can then determine your eCommerce SEO Keyword Strategy.
From all the potential keywords that you could spread your SEO resources across and not make much impact at all, you can instead focus all of your resources into a much smaller list of target keywords.
Ideally prioritising your eCommerce SEO Keyword Strategy based on the keywords with the highest potential for eCommerce revenue growth in the shortest amount of time.
Once you?ve chosen you target keyword strategy, you can then focus on?eCommerce link building strategies?to increase your authority for those terms through developing a mix of natural inbound links back to the specific landing page you want to rank higher.
You can then?measure your eCommerce SEO success?directly through the impact in rankings, traffic and most critically sales from the specific pages you?ve been targeting.
SOURCE:?https://www.thoughtshift.co.uk/how-to-increase-ecommerce-seo-sales-with-a-high-performance-keyword-strategy/
THINKdifferent DESIGN
different
ACTISmedia - Nottingham based website, eCommerce, and, digital marketing specialists.
Websites, e-commerce and digital marketing since 1996
Website Design in Nottingham
t: 0115 965 5117
w: andrewe208.sg-host.com

ACTISmedia.co.uk Limited
Offices 3 & 4
Daleside House
Park Road East, Calverton
Nottinghamshire, NG14 6LL