If you?re a regular follower of our contributions, you may have read one of our articles earlier in the year discussing the?new Google Search Console beta roll out?and what we can expect from it. Well following on from said update, Google has now officially announced the full rollout of the new version of Google Search Console on the?Webmaster blog.
As part of Google?s update announcement on the Webmaster blog, they gave some insight behind their rationale for rolling out these changes:
?As part of our reinvention of Search Console, we have been rethinking the models of facilitating cooperation and accountability for our users. We decided to redesign the product around cooperative team usage and transparency of action history. The new Search Console will gradually provide better history tracking to show who performed which significant property-affecting modifications, such as changing a setting, validating an issue or submitting a new sitemap. In that spirit we also plan to enable all users to see critical site messages.?
? Google
Firstly, so we?re all on the same page, what is Google Search Console and who uses it? Well quite simply, it?s a free service offered by Google that helps you monitor and maintain your site?s presence within Google Search results. It is comprised of a collection of tools and resources to help website owners, marketers, developers and?SEO?professionals monitor website performance in the Google search index.
So now we?re all up-to-speed, let?s take a look at what new features are available within the new version:
More data:
New User Management Features:
All users will now be able to see critical site messages, no matter if they only have the lowest level of permissions
A new user management interface enables all users to see and manage user roles for all property users (only if they have the required rights to do so).
A simplified permission model where Google limits the ?restricted? user role to read-only status
Read-only users will no longer be able to perform any state-changing actions, such as starting a fix validation or sharing an issue.
Better alerting and new ?fixed it? flows:
Get automatic alerts and see a listing of pages affected by Crawling, Indexing, AMP, Mobile Usability, Recipes, or Job posting issues
Reports now show the HTML code where a fix is necessary (if applicable)
Share information quickly with the relevant people in your organisation
Improved history tracking to show which individual performed which significant property-affecting modification. These include changes such as updating a setting, validating an issue or submitting a new sitemap.
Notify Google when you?ve fixed an issue. They will then review your pages, validate whether the issue is fixed, and return a detailed log of the?validation findings.
Simplified sitemaps and account settings management:
Let Google know how your site is structured by?submitting sitemaps
Submit individual URLs for indexing (also see more on this below)
Add new sites to your account, invite and?manage users.
Detailed Links Report:
The main takeaway here, especially if you?re supervising migrations at the moment/soon, is that the number of links in the new console will not be the same as the count in the legacy console. It will likely show fewer links due to a more accurate way of counting ? you have not necessarily lost these links.
Here?s a look into what information the new links report gives you:
Top linking domains (Which sites link to me the most)
Top linked pages (Which are my top linked pages from other sites)
Top linked pages from a specific site
Top linking text (What link text points to my site)
What are the links from a specific site to my page
What are the top sites linking to my page
Top linked pages (Which of my pages is linked the most from within my own site)
URL Inspector:
The new URL Inspector looks really useful for identifying indexing issues or orphan pages. Type in any of your website URLs to generate the following information: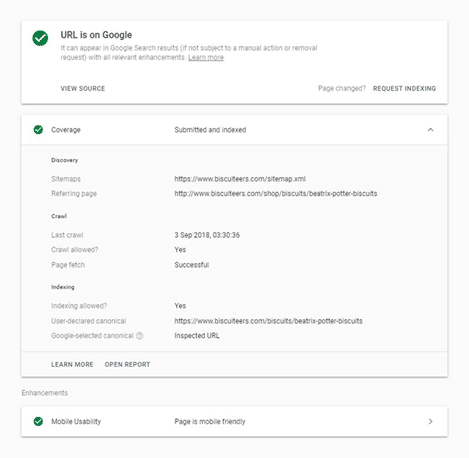 You still have the ability to switch between the old and new Search Console easily, so any missing functionality in the new interface is still accessible. Google are working on moving more reports and tools across, as well as adding exciting new capabilities to the new Search Console.
References:
SOURCE:?https://www.thoughtshift.co.uk/new-google-search-console-updates/
THINKdifferent DESIGN
different
ACTISmedia - Nottingham based website, eCommerce, and, digital marketing specialists.
Websites, e-commerce and digital marketing since 1996
Website Design in Nottingham
t: 0115 965 5117
w: andrewe208.sg-host.com

ACTISmedia.co.uk Limited
Offices 3 & 4
Daleside House
Park Road East, Calverton
Nottinghamshire, NG14 6LL