Backlinks have long been regarded as one of the key ranking signals in terms of SEO, essentially, they represent a ?vote of confidence? from one website to another. This conveys to Search Engines that a website or landing page is worth linking to, and therefore worth returning in the SERPS.
As Google states that its primary focus is to return the best search results for users based upon their search query, it makes sense that these ?votes of confidence? would go some way in ensuring that the most relevant content is being returned in the SERPS.
However, it will not be a surprise to learn that this has inevitably led to some attempting to build as many low-quality or spammy backlinks in order get a lower quality website ranking higher up in the search results.
In reaction to this, Google released its?Penguin update in April 2012, which was a designed to identify websites that were deliberately spamming its search results, particularly those purchasing links or obtaining them through backlink networks. Those websites that were deemed to have been violating?Google?s guidelines?were hit by SEO Google penalties.
These include a?manual action penalty?that results in a website suffering substantial loses invisibility, or worst of all, being blacklisted entirely from the search results.
Fast-forward to 2018, and since the last Penguin 4.0 (Real-time) update that updates the search results in real-time as soon as Google crawls and indexes a page, poor quality backlinks have a higher impact than ever before on a website.
Even if you have spent time developing a nice, healthy backlink profile, or have gained some nice juicy backlinks from authoritative and relevant websites, you could still be at risk of falling foul of Penguin and being on the receiving end of SEO Google penalties.
How?
Pre-Penguin, many SEOs focused on quantity over quality and therefore it is not a surprise to see a somewhat unhealthy historical backlink profile when analysing a new client?s website. While this may not be anything too alarming, technically if your backlink profile appears as though it has been intentionally manipulated, you could be at risk of an SEO penalty. This means that if you have an abundance of links from low quality directories ? for example ? you could be at risk of penalisation.
Since it first emerged, the internet has evolved and there are now more and more businesses online competing for lucrative page one ranking.
Unfortunately, there are those who just don?t like to play by the rules and resort to malicious Black Hat tactics to give themselves an advantage. This includes building poor quality, or spammy backlinks to a competitor?s website with the intention of landing them with the dread manual action SEO penalty that was mentioned earlier.
You may think that I am being somewhat dramatic and being slightly over the top, but believe me, I have seen it happen to several websites over the past 18 months; luckily through identifying the spammy links and cleaning up their backlink profiles, any potential loss of visibility was kept to a minimum or avoided altogether.
We also perform regular checks on our clients? backlink profiles to ensure that everything is looking as it should be.
How to Audit Your Backlink Profile
Personally, I like to do regular checks on my client?s backlink profiles, a couple of times each month, to ensure that everything is looking nice and healthy, and I would advise any webmaster to do the same. If your website is relatively small, it is easy to keep on top of new backlinks as you go along, but if you oversee a larger website, it?s a touch more challenging.
Here are some of the key things to look out for when assessing your backlink profile.
Dig into Your Backlink Profile
Spend some time looking through your backlink profile, ideally, this should be done using a backlink analysing tool that pulls the backlinks pointing to a website and using the ?Links to your Site? feature in Google Search Console; when combined, these tools will provide you with a pretty comprehensive list of your backlinks.
To find your backlinks in Google Search Console, you need to head to the following menu: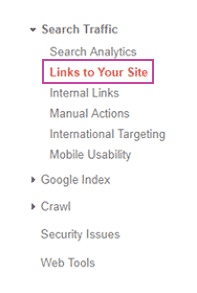 You will then be presented with a breakdown of the backlinks to your website, as well as the number of links from that website and the number of linked to pages.
As you can see, the domain cougarlcoverdating.ga has little to do with the website and is going to be a backlink that has likely been built with the intention of disrupting this website?s rankings. As we delve a little deeper into their Search Console backlink profile, it becomes evident that this is a recurring theme, and there are suspicious and irrelevant domains linking to their website.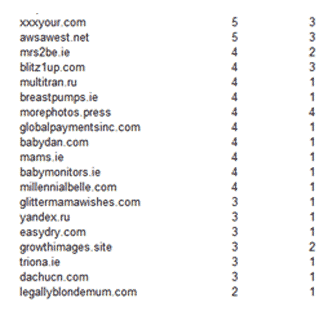 While you are analysing your backlinks, take some time to identify the type of website that is linking to your domain. As part of a healthy backlink profile, you should have a nice mix of both followed and no-follow links from a variety of different types of websites.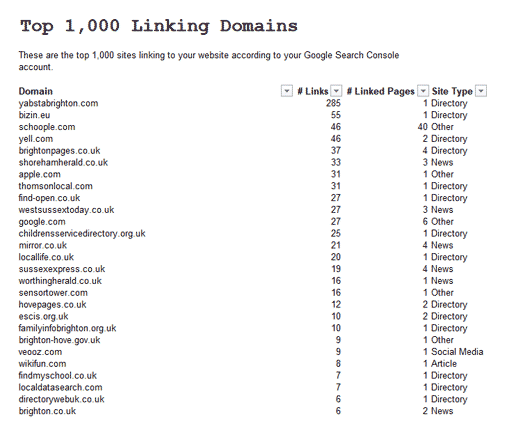 If you have a greater percentage of links from a certain type of website, this could lead to Google becoming suspicious and suspect that you are maliciously attempting to manipulate its search results.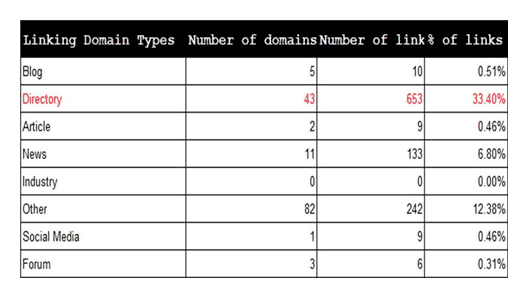 If you find that this is the case, it will not necessarily lead to an SEO penalty, but you should most certainly begin crafting a link building strategy that will diversify your backlink profile. In the above example, you can see that this website has a large percentage of backlinks from directories and the backlink profile needs to be diversified by seeking backlinks from a variety of different types of websites.
If you have access to a tool that enables you to delve deeper into your backlinks ? like?Majestic SEO?? then this will provide you with far greater insight into your backlink profile. These tools offer the ability to gain greater insights into the health of the backlinks pointing at your website.

In Majestic, for example, you can order backlinks by their ?Trust Flow? and ?Citation Flow?, and the lower the score the more potential there is for a backlink to be spammy or toxic. As you can see, it is also possible to view the anchor text of each backlink, this allows you to identify anything suspicious relatively quickly as well. This is a good way of ensuring that you are not a victim of a potential negative SEO attack; a lot of the time these backlinks will be pointing to a website with anchor text that has nothing to do with your website and is used repeatedly.
In the example that I have included above, you can see that these backlinks are not natural and have been built with the intention of having a negative effect upon the rankings of the website. To avoid any potential future Google SEO penalties, it is imperative that this backlink profile is cleaned up and the backlinks are discounted by Google.
Keep reading to find out how to disavow backlinks and ensure that your backlink profile remains healthy!
How to Clean Up Your Backlink Profile
The?Google Disavow Tool?was introduced by Google in late-2012 as a way to tell Google to overlook certain links pointing to your website and avoid SEO penalties.
Important:?Please ensure that you fully understand how to use the Google Disavow Tool before doing so, as if you use it incorrectly, you run the risk of potentially disavowing links that are having a positive impact upon your rankings and that you have earnt naturally.
To begin with, download the links that are in Google Search Console: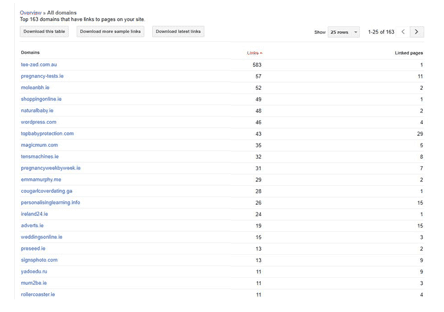 Download both the sample links and the latest links; if you have a site with more than 1,000 linking domains, you can sometimes get a greater number of links by downloading the sample list of links each day over the course of several days.
As I said earlier, you should ideally download links using a backlink tool, such as Majestic SEO or?Moz?s Link Explorer?to be fully informed. Once you have downloaded links from multiple sources, you will have a pretty substantial spreadsheet that will contain duplicate backlinks.
Break the URLS Down by Subdomains
Create a column to the left of your URLS and insert the following formula and drag it down the cells:
=left(B1,find(?/?,B1,9)-1)
To edit the column, you will need to convert the formula results into values; to do this
hold CTRL and C to copy, followed by Edit > Paste Special > Paste Values Only
Once you have done that, use the find and replace feature to break the column down to subdomain level. Key column A highlighted > click Edit > Find and Replace and insert https://www. with an empty space and select ?Replace All?.
You should do the same for http://www. as well!
Once this has been done, Column A will contain the subdomains of each URL.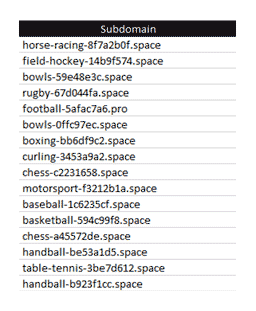 Once you have done this we then need to remove the duplicates.
Begin by ordering the domains alphabetically and then creating a column to the left of the sub-domains, and entering the formula:
=if(B1=B2,?duplicate?,?unique?)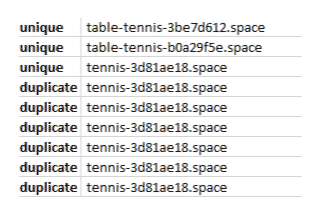 This will then tell you which of the domains is unique or duplicate, once you have done this, you can then filter to only show the duplicate domains and then delete these.
Now we can move onto the important part of auditing the backlinks!
As I mentioned earlier, this is an essential part of the task and you need to ensure that you take the time to look at each of the domains to ascertain if it should be kept or disavowed. Create an additional column and mark whether the link is to be kept or disavowed:

Once you have done this, break the list down so that you are only left with the links that you want to disavow, and then copy them into another sheet.
We then need to add ?domain:? in from the subdomains in preparation for when we create the disavow file that we will submit to Google Search Console. Please be aware that it is important to disavow on a domain level to ensure that you are covering-off all those toxic backlinks.
To add ?domain? before each of the domain names, insert the following into B1:
Again, copy the formula down all the columns, and do a copy and then paste special > paste as values.
How to Create a Disavow File for Google Search Console
Now we are ready to create the disavow file. (hooray!)
The disavow file should be a .txt file in UTF-8 format or 7-bit ASCII. The way that I do this is to copy the domains into Notepad, as so: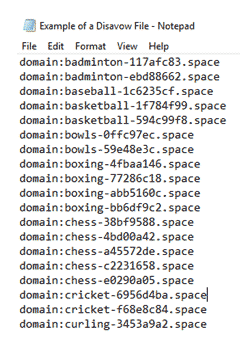 When you are ready to submit your disavow file, head to the?Google Disavow Link feature?and select the appropriate website if you have multiple domains associated with your account. Simply click on ?Disavow Links? and upload the associated file; once this has been done you will get confirmation that it has been submitted successfully and another message in Google Search Console to tell you that your upload has been successful.
How Long Does It Take for a Disavow File to Work
The next time Google crawls one of the links that you have disavowed, it will apply an invisible nofollow tag to each of the links pointing at your website. Now that Google Penguin works in real-time, this means that you no longer wait long periods before links are discounted.
I hope that you have found my blog post informative if you have any questions or feedback, please leave a comment below and I will get back to you. Thank you for reading!
SOURCE:?https://www.thoughtshift.co.uk/how-to-assess-clean-up-your-backlinks-to-avoid-google-seo-penalties/
THINKdifferent DESIGN
different
ACTISmedia - Nottingham based website, eCommerce, and, digital marketing specialists.
Websites, e-commerce and digital marketing since 1996
Website Design in Nottingham
t: 0115 965 5117
w: andrewe208.sg-host.com

ACTISmedia.co.uk Limited
Offices 3 & 4
Daleside House
Park Road East, Calverton
Nottinghamshire, NG14 6LL